I received this book for free from in exchange for an honest review. This does not affect my opinion of the book or the content of my review.
This book may be unsuitable for people under 17 years of age due to its use of sexual content, drug and alcohol use, and/or violence.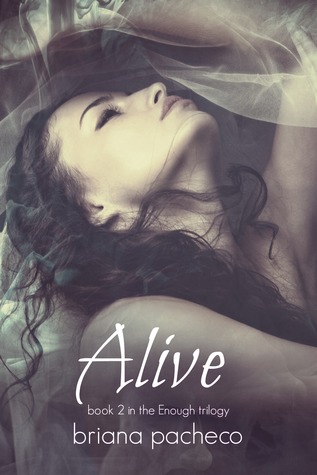 Title: Alive (Enough #2)
Published: June 1, 2014
Pages: 402
Format: eBook
Buy the Book

Prom. Graduation. Fashion show.
Those are the three things Emily Vasquez has been waiting for since her life picked back up and became livable. She has the guy, the friends and a future to look forward to. Sort of.
David Vasquez. He was never part of her plans. He was the father that hurt her and ran. Now he's back with bad intentions and he won't stop until he gets what he wants. Emily.
What happens when the future Emily saw coming becomes blurry and out of reach? Where everything she planned for gets taken away?
Secrets are unveiled, emotions will run high and blood will be spilled in the second installment of the Enough Trilogy. Will Emily and Alex survive this or will it become too much? And most importantly, will everyone come out of this alive?
WARNING: Due to heavy subject matter and mature content, this book is recommended for ages 17+
Rating:
Alive leaves off where book one Enough ended. If you read book one than you know that Emily has something to tell Alex, and it is something that will change their life forever. When the big reveal came to play off the first or second page I literally went back to book one and started searching to see if I had missed something, as there was really no clues as to this big event that was going to happen. I think the surprise for us readers was pretty good.
Emily is still not a character I am fully connecting to as I hoped. We learn more things about Emily in this story than we did in book one. Which I kind of thought was a bit weird, I would have expected more character development in book one than in book two. She has grown a lot within this book, but she cusses a lot more in Alive than when she did in Enough which kind of through me off with her.
I do enjoy the paranormal element that the author is trying to created. But its not really sticking fully for me. It is like the author is creating a romance, with paranormal but the paranormal is coming later on towards the end than in the middle or beginning.
Emily is hit with tragic things happening to her and around her because of her father David. As you know David from the first book has a vendetta against Emily. But with her family, friends and her guardian angel sure enough Emily will pull through but the question is at what price?
The ending has me wondering if there is a book three in the works. Even though the story line is hard for me truly get into because it seems so out there for me I am intrigued as to who this mysterious person that pops into Emily's life is. What problems exactly is she causing with Heaven?
Briana Pacheco hates referring to herself in third person so let's start off with I'm the author of the Enough Trilogy and more books to come in the future. I'm from Boston and a wannabe explorer so one day I'll travel the world. So far, that's only happening when I write but I'm not giving up just yet. I love coffee, music and books and I have an obsession with tattoos and accents. Sadly, I have neither so I make my characters have them instead. I love hearing from my readers so please don't be shy and stalk me.
Email:[email protected]
Facebook: BrianaPachecoAuthor
Twitter: @BrianaPacheco20
Blog/Tumblr: BrianaPachecoAuthor